Free Icon Maker is Online
---
Junior Icon Editor is a free icon maker to design icons for iOS (iPhone, iPad, iPod), Android, Windows and websites.
With Junior Icon Editor you can:
Create tabbar, menu, dialog, toolbar, application icons for iPhone
Create and edit icons in color depths up to 16 million colors
Create and edit icons for Windows XP, Vista, 7, 8 in 32-bit color depth with 8-bit alpha channel
Edit .png icons for web, Linux, Android, iOS, WP7
Paint images with pen, brush, airbrush, ellipse, rectangle, line, curve tools
Roll, shift and rotate images
Import and export .ico, .png, .xpm, .xbm, and .icpr formats
Sort images inside icons
Copy and paste images to other applications
Copy and paste color values from the clipboard
System requirements: Windows PC.


View full screenshot

If you have always wanted to design icons with your own unique blend of creativity; then, this is your chance to do so because now you can get access to a very powerful icon editor that can be used to make all sorts of web graphics from toolbar buttons to mouse cursors.


---
Stock Icon Sets
Business enterprise applications facilitated, number one designs for the fore
There is a lot that may not work right if you find yourself seeking to write a small business software package, as most web developers are generally constantly striving between always keeping it sober even while trying to keep it by being way too dull. This all while planning to fit in the actual complex features. Aero business symbols would be the key to the issue, read more for more info.



Tab Bar Icons with Source Vector Files
Tab Bar Icons For Mobile Apps
iOS Tab Bar Icon Set

Tab Bar iOS Icons
High Resolution App Tab Bar Icons for iPhone & iPad

3d Glossy Icons
Application Bar Icons for Windows Phone 7 Series
Blue Icons
Black Icons

Avia Software Icons
Professional Toolbar Icons
Ribbon Bar Icons
Glossy Toolbar Icons
3d Business Icons
Glossy Data Icons
Perfect Automation Icons
Android Icon Pack

Medical Tab Bar Icons for iPhone & iPad
Hotel App Tab Bar Icons for iPhone & iPad
App Bar Icons for Windows Phone and Windows 8
Medical Icons for WP7
---
Enter the Realm of Designs and Then Your Software Won't Be the Exact Same Again
This variety of icons is set to modify your world if you're a programmer. Use the quite a few symbols to choose from with this portal to provide the application this extra edge, receive the right combination of the actual business logic and also the GUI.

What's more essential along with a webpage, the business logic or perhaps the user interface? Strive as you can, you wouldn't be capable of visualize a respectable response to it, fact is, that they are both equally important. Finding the suitable mixture involving the User interface and the back-end of the software is important for any app to work well, as numerous software's having terrific performance yet normal User interfaces are finding therefore to their peril.

From time to time people just neglect to appreciate the importance of a great GUI, those that do just would not have the desired proficiency to formulate these. To make your own dilemma more shocking are often the high charges that creative designers demand of these improvements. A UI requires a heap of meticulous work as you've got to produce it graphic by picture.

Never give up hope as we now have the perfect strategy to make your undertaking simpler, whether it is icons to get a Microsoft Windows tool bar, aero people designs, health related designs or some different that you may perhaps think about, anything that your software requires regarding images is right here for the use. All these design are presented in up to 5 various sizes (even though this may occasionally hinge from bunch to package), and various other colorations, from monochrome in your Windows phone 7 symbols for designers to 32 bit hues for aero people's symbols group, aero business symbols and many others.

Each and every shot you will get continues to be created by experts with specific care about fine detail. These will be extremely descriptive and very alluring to the eyes. The good thing is that you will not will need to go to any other place for your graphic requirements once you've been here. While using the pics wisely and arranging them on the User interface suitably may with ease get together a front-end that is certainly warrant the back-end you've written.

The particular icons provided listed below are sure to receive the user's eye with their astounding rendering and the amusing undertones. An image from the aero people's package shows a business adversary having a bull's eye on him or her. You won't just locate new images for those the usual functions in these packs, they've been adapted to fulfill each individual inspiring intuition of yours. You can find icons for aliens, a super hero plus agents with common ones of salesmen, medical doctors and also dentist. It is just a myriad of colours that is definitely guaranteed to provide brand new life to the graphical user interface without the need of rendering it seem the slightest bit gaudy.

So look into all these immediately, get a demo in order to check out just a few initially or maybe purchase them right now and even deploy these this second. Give your app a reorganisation.


View Icon Articles
Free Online Icon Maker
---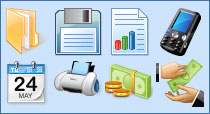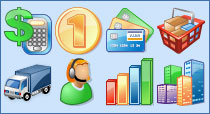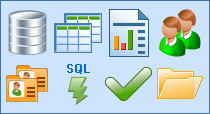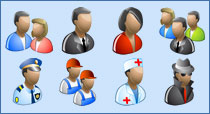 ArtIcons Pro
is popular online icon maker. It enables professional and amateur artists to design and edit all kinds of icons. It supports ICO, BMP, PNG, GIF, ICPR, PSD, XPM, XBM, WBMP, CUR, ANI formats. German interface is available.
ArtCursors
allows you to find, create, edit, import and export cursors and manage cursor libraries. It supports static and animated cursors.
Any to Icon
converts icons and cursors into BMP, JPG, PNG, GIF, ICO, CUR and other formats. This wizard can find icons and make images for use on Web pages.