Icon Editor for Windows
Make Windows Icons and Edit Icons with the Icon Editor
IconLover is a powerful icon editor for Windows which can be used to edit icons and an icon maker that is very efficient at creating Windows icons. Discussed here are some of the features of this tool and what it can do to improve the quality of the icons that you design.
With IconLover you can:
Manage icons, static and animated cursors, icon libraries, image lists
Create and edit smooth semi-transparent icons, static and animated cursors for Windows XP
Create and edit icons in standard and custom sizes, with color depth up to 32-bit True Color
Paint images with gradient and chess fill
Create multi-layer images
Modify images with drop shadow, opacity, smooth, negative, grayscale, colorize, rotate, roll and mirror effects
Import and export ICO, BMP, JPEG, ANI, CUR, GIF, PNG, TIFF, TGA, WMF, WBMP, XPM, XBM and Adobe Photoshop PSD image formats
Manage icon libraries for better and more efficient image storage
Extract icons from Windows executables, libraries and animated cursor files
Modify icons inside executables
Search in folders for icons
Convert or apply effects to multiple icons at once
Customize desktop and folder icons
System requirements: Windows 95/98/ME/2000/NT/XP/2003/Vista/7/8, Windows PC.

Trial limitations: 30-day trial period, nag screen.

Download:
exe
zip

If you are looking for a powerful and easy to use icon editor that can help you to work on Windows icon, extract, find, create and edit icons and can also be used for managing image lists and icon libraries; you simply cannot go wrong with Iconlover available at iconmakerfreedownload.com. This fantastic tool serves a lot of purpose so let's take a look at some of the things that you can do with the Iconlover.

You can manage animated and static cursors, all your icons in the image library, create and manage image lists and manage icons. This tool will also help you to create and edit Windows icon so that you can get images that are smooth and semi transparent. You will not only be able to work on icon images but also on static and animated cursors that are used in Windows XP. You can also change the images and create them in custom sizes with color depth up to 32 bits.

The tool lets you chess fill the images and paint them with gradient, you can also create multi layer images; modify them, use opacity, drop shadows, negative, smooth, grayscale, mirror effect , roll, colorize and rotate the icons to make them as unique as possible. The icon maker also lets you import and export images in various formats such as JPEG, ICO, PNG, BMP, ANI, TGA, WMF, XBM, TIFF, XPM, Adobe Photoshop PSD and WBMP formats.

Use this tool to efficiently manage image libraries for better icon storage, you will also be able to extract the icons from your computer; for instance, you will be able to get icons from Windows libraries, executables and also use the Windows animated cursors. Another feature of the tool is the ability to modify the icons inside the executables. This is a high end, well rounded program that can be used to create some of the most marvelous graphics.

The next tool is called ArtIcons; this is an extremely user friendly tool that can be used by experts and amateurs alike. The features of this program are almost similar to the features of Iconlover. With this tool, you will also be able to extract the images from all folders and subfolders and collect them in the icon library. With this icon maker and icon editor, you will also be able to convert Mac icons to a Windows compatible format. And just like the other tool, you can use the ArtIcons drag and drop icons from different libraries while the tool offers interfaces in several languages such as German, English, Spanish and others. You get a 30 day trial period to try out these tools; you should certainly go ahead and give this software a look. It is one of the best pieces of coding for working on Windows icons.

The best part is that both tools come with detailed instructions and serve as an icon workshop that can be used to make and edit icons to suit your requirements.


Icon Articles
Online Icon Maker
Click here to order IconLover
Colour Your Graphical User Interfaces Considering the Brand-New Windows Designs
Interfaces engage in a notable role in enhancing the user friendliness and look and feel. Head out one step more by using up to date symbols offered here to make your own softwares exciting to make use of and easy to understand, by using the help of a few wisely designed images to use via this web site.

A certain MR. Fred R Barnard inside a publication in 1921 explained a couple of terms, "a picture is worth a thousand words", actually he could n't have realized the exact meaning with the terms at that time, or maybe this individual did, as even more than ninety years soon after making this declaration we try to search out a lot more ways to apply it. Barnard could possibly have stated it though bearing on the particular potential of pictorial advertising campaign, nevertheless a number of decade's back it found it's way into the concept of encoding with the creation of Graphic screens once illustrations or photos along with designs replaced crafting sophisticated command-line arguments.

Using simple, straightforward symbols could go some distance straight into making the life of any person less difficult. By positioning a majority of these icons you don't only help make that less difficult to get around, it genuinely helps make the graphical user interface more appealing.

You can get the hands on above seven-hundred these kinds of icons over here, them all at a price of 99 bucks. The picture is available in the dimensions corresponding to a square of forty-eight pixels that have a see-through back ground and also a picture of twenty six by 26 pixels at the centre. these visuals compatible with all your Windows 8 and even Windows phone software packages also come in the PNG formatting are available in any of fourteen distinct colours ranging from the standard blue, red and also green up to the more unique navy and also light-red, and could be used with or without the encompassing circles. Modify each individual web page on your computer with the assistance of every one of them properly fashioned icons and then consider the hard drive maniement to a completely new level; you possibly can replace icons for the regular capabilities just like redo, undo, back, refresh and so forth. along with a majority of these visually desirable design. With the normal kinds, you choose out of hundreds off distinctly made photographs which you'll have a great time determining elements to, you have a cardiologist icon, a motor man icon, a private investigator symbol, an auditor image and probably the best of them angel image.

All of these icons, as I have already stated, appear in a very deployable sort, you obtain their hands on them all as early as you make the deposit and then you are free make use of them in each of the conceivable means. A stylish graphical user interface can make hours on the job seem way less difficult as well as saves you by getting worn out psychologically by surfing all those intensive series of instructions. Simple routing, enticing user interface and sensible features remain at the heart of every app, with the aid of this specific group you will have the user interface and also the navigation part protected, the only issue which is stopping you against making a high tech software is you. Obtain a majority of these icons at this moment and also revitalise the whole programming experience.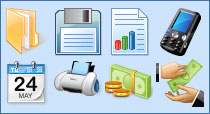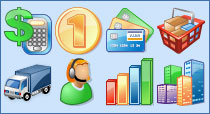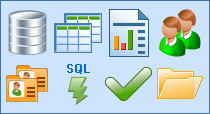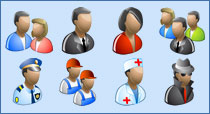 ArtIcons Pro
is popular Windows icon editor. It enables professional and amateur artists to design and edit all kinds of icons. It supports ICO, BMP, PNG, GIF, ICPR, PSD, XPM, XBM, WBMP, CUR, ANI formats. German interface is available.
ArtCursors
allows you to find, create, edit, import and export cursors and manage cursor libraries. It supports static and animated cursors.
Any to Icon
converts icons and cursors into BMP, JPG, PNG, GIF, ICO, CUR and other formats. This wizard can find icons and make images for use on Web pages.